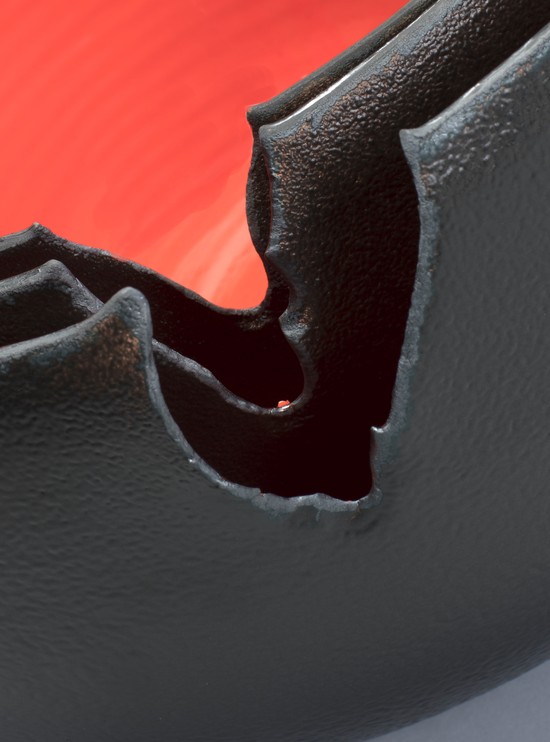 Project Philosophy
Artistic pottery has undoubtedly made its way into our homes, enriching their furnishings with unusual objects of contemporary, modern design.
With her original ceramic accessories, EVA MUN seeks to express a philosophy that is deeply rooted in the tradition of Renaissance Majolica, yet decisively infringing upon its rules with regard to formal research and the use of experimental shades of colours.
Her proposal is a kind of Ceramic Art whose design is original and unusual, a perfect match for a house aiming to keep up with the times. Her creations are dedicated to a refined customer base attentive to quality and detail.
Each piece of the EVA MUN collections responds to a need that the artist-designer feels as a fundamental aspect at the core of her ongoing research: how to bring a touch of "lightness" into a matter with intrinsically heavy and concrete characteristics. She gives life to her ceramic creations making purposely use of ferrous clay, which can be found commonly throughout the Tuscan territory and has long been used to create ceramic artefacts since ancient times.
"My idea is to raise clay towards the sky, transferring a feminine, almost spiritual touch of lightness into the matter, privileging the shape over the following colour…"
With this intent, ceramics become small pieces of art in which the creative gesture reveals attention and sensitivity to every aspect of the production process.
Colour is yet one more distinctive note in the works of EVA MUN. It can be light at times, sometimes more intense, yet never trivial, with contrasting combinations of colours in which glossy, glittering finishes blend seamlessly with satin and matte glazes. Undeniable inspirations drawn from the world of nature are clearly visible in all of her works, particularly inspired by the landscapes of Tuscany, where the artist resides.
Earth, Water, Fire and Air are indispensable elements for good ceramic making. However, human gestures are arguably the most peculiar trait that distinguishes a piece of ceramic art: the mastery of those who are able to transform the earth into something more, giving birth to a unique and precious object.